Summer Living is Easy with FLCP's fun and flexible Summer Camp Programs
Summer Day Camp Program
NOTE: We have turned off the online registration form. You can still enroll in camp by completing a paper registration form and emailing a pdf of it to flcpinfo@firstlutheranportland.org.
(entering Grades 1-8)
Summer Camp is a great way to keep your child active once school is out. But finding the right place for your children, and your family, is important. Our programs were developed with families in mind, allowing for flexibility for the parents and variety for the kids. Campers are grouped by age to enjoy group and camp-wide activities, which include: music, drama, arts, sports, games, crafts, nature, and dance.
Flexible Schedules to Fit the Needs of any Family

Our Summer Day Camp program is designed to meet the needs of any family in the greater Portland, Maine area.  Our  ability to offer single day or full week packages, enables us to  accommodate your schedule and the interests of your child.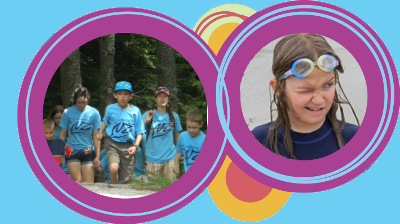 Important Information
Please make sure to read our Camper Registration Form and refer to our Camper Guidebook to be aware of our camp details (gear list, payment due dates, schedule change policy, etc).
Qualified and Experienced Counselors
Many staff members have worked in the summer day camp for up to five years and have trained in the CIT program at First Lutheran; they are selected for their experience, training and knowledge in the fields of camping, education and youth leadership. Staff is carefully screened for employment and certified in First Aid, CPR and DHHS water safety. A low counselor to camper ratio allows for a more individualized experience for the campers.
Integrated Approach to Leadership, Variety and Fun!
Older campers and CIT members are involved in leadership learning like planning and implementing camp-wide activities and events while younger campers get variety in programming including hiking, games, crafts, nature study, swimming, sports, and the arts. In addition to normally scheduled camper activities, each week of camp will  have its own theme that will serve to enhance a fun camper experience.
 Schedule | Weekly Sessions | JUNE 20 – AUGUST 18 (9 weeks)

Registration will begin in early-March for prior campers and families currently in our program.
Registration will begin for the general public in mid-March.
Summer Day Camp 7:00am–5:30pm
Call for a tour: (207) 797-2260
SEE FOR YOURSELF WHAT SUMMER CAN BE!
REGISTRATION

Everything You Need to Enroll Your Camper!

You can register by two methods:
Use our online camp (camper & CIT) registration link
OR
Complete/return the registration form (pink button for camper and green button for CIT).
Please email or mail the registration form to the FLCP office.
Registration Fees can be paid through our tuition portal or by mailing a check/money order. If using the portal, please check the "Other" tuition type and include the words "Camp Reg Fee".
Checks or money orders must be made payable to First Lutheran Day Camp for the non-refundable amount of $50 per family. One registration form per camper please.
Mail To

First Lutheran Children's Programs
A Ministry of First Lutheran Church
132 Auburn Street
Portland, Maine 04103
Financial Assistance:
We accept childcare subsidy (CCSP) and ASPIRE funding through the state based upon family income and other eligibility requirements.  Due to low state reimbursement rates, CCSP and ASPIRE spots are capped per week and eligibility is on a first-come-first-served basis.
Our Summer-at-a-Glance for 2023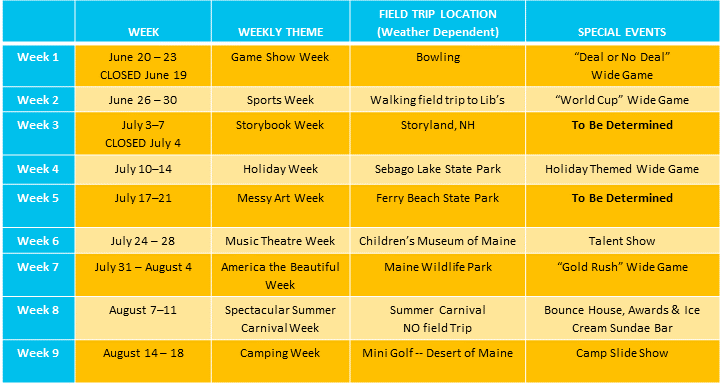 Cultivating a Sense of Fellowship, Community and Leadership
With an emphasis on building strong friendships, a sense of leadership and a connection to community, the FLCP summer day camp provides children with individualized, diverse and fun camp experience. It offers families a safe, creative and educational experience through a diverse program with trained counselors.
CIT Program (entering Grade 9 or higher)
The CIT is a leadership-training program offered to  youth ages 14 & 15. This is an opportunity for youth to learn what it takes to be an effective camp counselor. In this program camp trainees learn to plan, implement and lead activities, games and worship. Please contact us for more information.
For our CIT program, complete the registration form.